Stanley Yeager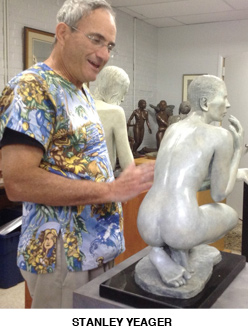 Stanley Yeager of Montville, NJ received his undergraduate degree in Zoology from Rutgers University in 1973 and his Doctor of Dental Medicine from Farleigh Dickinson University in 1992.  He has spent 42 years in his own dental practice, specializing in restorative prosthetics.
From a young age he had the inner desire to create, which he expressed by drawing and building model airplanes and other items appropriate for a boy of his generation.  As an adult he collected antiques and fine art, studied music, traveled and began to pursue a degree in art.  His serious study of art history and its academic environment, though both appealing, challenging, and exciting, made him realize that he needed to physically create and not just examine and investigate the careers of artists in social and historical context.  In 1995 he bought his first case of Chavant clay and began to experiment, explore and ultimately create.  He is a self taught sculpture with the delicate touch of a dentist and a heart and soul that seeks to understand and express the human condition.  The titles of his works represent the focus of his feelings.
From the Ashes depicts a condition that we saw on all the brave fireman leaving the destroyed World Trade Center on 911. Just as he is felt compelled to create each piece, he also felt compelled, as an artist, to create and submit his proposal for the 911 Memorial.  There were 5200 proposals submitted.  Needless to say, his design was not chosen, but he felt it was his duty to express his interpretation of the sadness and loss that we all felt and his desire to honor the fallen heroes.  From the Ashes would have been life-size if his proposal had been chosen.
The final element that has led him to develop his intuitive talents and latent skills was a spiritual recognition of who he is as an artist and not what he chose as a career. Being a member of a gallery, he can now offer his sculpture to the public.  He invites the viewer to interact with the sculpture on multiple levels whether it is a purely instinctive reaction to its emotional content or an appreciation of its form as a unique visual experience.  The end result is the reflection by the viewer of their own condition and experiences in life.