Rae Hoffman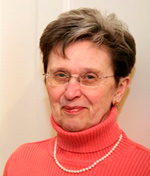 Rae Hoffman's love of painting started when she was 13, when she began painting from her childhood in the Fairmount section of Tewksbury.  As music major at Trenton State College and later a design student at Parsons School of Design, the arts have continued to have a strong influence throughout her life.   Ms. Hoffman owned a wedding and formal clothing design business from 1980 through 1995.  During this time, she designed and created wedding attire for thousands of weddings and formal events.
More recently, Ms. Hoffman has returned to painting, focusing her artistic abilities on watercolors.  Ms. Hoffman exhibits annually at the Tewksbury Historical Society Show where she has been awarded Best of Tewksbury (2001), Second Place (2002) and several Honorable Mentions.  She has also exhibited in a one-woman show at the Seabright Library (2002) (2004) (2006), a three-women show of local scenes at the Bernardsville Public Library (2001), Jacob Swedlow Gallery, and St. Mark's in Hackettstown.  She is a member of Studio 7 in Bernardsville.  Ms. Hoffman has paintings in collections both nationally and internationally.
As a Board Member and former president of The Somerset Art Association, she has been active in many of the association's events.  A strong supporter of SAA, Ms. Hoffman has exhibited extensively and donated much of her time and artwork to SAA.  A student of Mazie MacLean, Lee Hughes, Robert Heyer, Ruth Wilson and Betty Stoppel, she is also a member of the Palm Beach Watercolor Society and the Hilton Head Art League.
A native and life long resident of New Jersey, Ms. Hoffman has made Bernardsville her home for over 40 years.  Her deep roots in Somerset and Hunterdon Counties and her love of the rolling hills and farmland of this area are reflected in many of her paintings.