Nicolas Emeric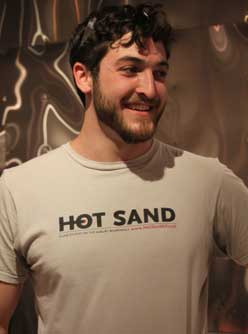 Nicolas Emeric Nicolas Emeric started his career as a glass artist in New jersey in 2007; originally born in Colorado Nick creates much of his sculptures inspired by the surrounding wildlife from where he grew up.
Nick started his career with glass by teaching himself to flamework, it was before long that he started looking for further education in glass. His search started in studios in New Jersey around Philadelphia. It was a summer session at the Corning Museum of Glass that really began his endeavor into furnace working glass. With a couple years of glass experience Nick started his long lasting relationship with Hot Sand in 2007.
While managing the hot shop at Hot Sand Nick achieved his Associates Degree in Fine Art in Glass from Salem Community College. Being in south New Jersey at this time really shaped his education toward the long lasting history of scientific glassblowing which began there so long ago. In the summer of 2010 Nick ventured to Washington state to the Pilchuck Glass school. This was an experience that would change the way Nick creates glass sculptures; In this summer Nick would experiment with Swedish color techniques and cameo engraving.
Looking to further his education in glass Nick moved to Jacksonville University in Florida where he achieved his Bachelors in Fine Art in Glass and Sculpture. At Jacksonville Nick created art work on a larger scale for public installations. His strive in school toward his art gave him the chance to become part of the deans council as well as earned Best in Show at the Alexander Breast Gallery and an award of excellence from the Ponte Vedra Cultural Center.
Nick currently resides in Asbury Park creating blown glass sculptures that have detailed animals and landscapes engraved into the surface of the glass. In recent celebrating ten years of educating students about glass at Hot Sand Nick hopes to continue enlightening people to the world of glass art.