Mary Ann Viola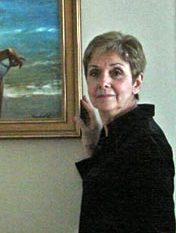 Mary Ann lives in Rochelle Park, NJ. 
She has attended Montclair State College, Bergen Community College, California Art Institute, Arts Student League in NYC, and the New York National Academy of Fine Arts & Design.
Her instructors included Ron Cher, Dan Gheno, Peter Cox and Michael Burban. She has also studied privately with Bert Silverman in NYC and Daniel Green at Summer Workshops in North Salem, NY.
She is a member of Somerset Art Association, Arts Council of the Morris Area, Catherine Lorillard Wolfe Art Club, the Portrait Society of America, Inc., Ridgewood Art Institute and Allied Artist, NYC. Mary Ann has appeared in many shows throughout the United States including Three Rivers and Bakersfield, California, Las Vegas, Nevada, Taos, New Mexico, New York and New Jersey.
She received special recognition from the Portrait Society of America and International Artist Magazine.  She was awarded a scholarship from the National Academy of Fine Arts, NYC.
Mary Ann has been commissioned to numerous portraits and is in many private collections including The Village in California which sponsors the Aids Bicycle Ride.