Leslie Ann Genninger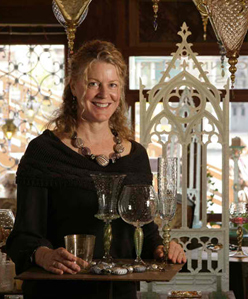 Leslie works on the Island of Murano, along side some of the most highly skilled glass masters in the world. She incorporates into her designs some of the most difficult Murano glass blowing techniques, along with color secrets that date back over 1000 years. Some of her beads have been likened to miniature Jackson Pollock-type canvases, made with sparkly copper powders (Avventurina) or ground into various shapes (Battuto),her jewelry to Peggy Guggenheim-esque jewels, her goblets to post-modern wine connoisseur delights, and her elegant cesendelli chandeliers to the eternity lamps found in Byzantine and Roman Period churches and synagogues throughout Venice.
Leslie feels privileged to have among her most valued clients some of the leading design and art museums in the world such as The Smithsonian institute in Washington, D.C., The Museum of Art and Design in New York City, The Isabelle Stewart Gardner Museum in Boston, The Tacoma Glass Museum and The Belvedere Museum in Washington State, and The Venetian Glass Museum in Otaru, Japan.
Leslie takes pride in working directly with her esteemed private collectors in designing not only mirrors, chandeliers, goblets and sculpture for their homes, offices and hotels but also custom made jewelry for their special occasions and everyday entertainment and working attire.  Often when she is not entertaining them in Venice she is working directly with them in their private homes or work sites, or meeting them at international art glass exhibitions.
Listed among her preferred clients are numerous international art collectors and glass art enthusiasts, as well as The Cipriani Hotel in Venice – considered one of the top 10 hotels in the world, for her cesendelli lighting; Elton John for both his cufflink and glass sculpture collection; Ivana Trump for her unique goblet collections, chandeliers and mirrors; the Bellagio Hotel in Las Vegas for their entire collection of Venetian glass mirrors and chandeliers, and the Venetian in Las Vegas for their famous Venetian rulli windows.