Lee W. Hughes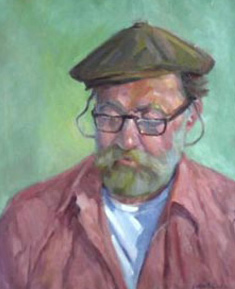 Born in East Orange, New Jersey, Lee W. Hughes was a gifted, sensitive young man. Lee was influenced by his grandmother, a talented artist who studied with Benjamin West and was encouraged by his mother and high school art teacher. Undiagnosed dyslexia made his school years difficult and after graduation, he enlisted in the Navy and served as a medic in the Korean War. Upon returning home, he used the GI Bill to study art at Paier School of Art in Connecticut and Boston Museum School of Art.
Today, at the age of 76, Lee has been in over 200 solo shows as well as many group shows, including one at the Smithsonian Institute. He has earned over 200 awards in watercolor, oil and acrylic mediums. His works are in collections at the Zhejiang Museum, China, Seton Hall University, numerous corporate headquarters including the Peapack Gladstone Bank, Nabisco, Inc., and Sandoz Pharmaceuticals and extensive private collections all over the world.
Lee's paintings are best known for his light-filled, impressionistic landscapes and flowers. His love of nature led one art critic Sarah Henry-Corrington to note, "Lee is a keen observer, and you get a sense from his paintings that he knows what dew, frost or earth feel and smell like." Painting en plein air, Lee's signature painterly brushstrokes quickly record soft breezes, flickering light and the heat of the mid-day sun. The essence of time, as a fleeting and yet an ever-constant companion infuses Lee's work. Moments are simultaneously frozen, locked into place by the prison of canvas and frame and then powerfully released by the artist's masterful manipulation of texture, line, form and color which undulate and dance across the surface setting the scene in motion. Permanancy and the temperal is but one set of dualities that shapes Lee's work.