James Fiorentino
View Artist Receptions: Art of the Game 

            Rare Wildlife Revealed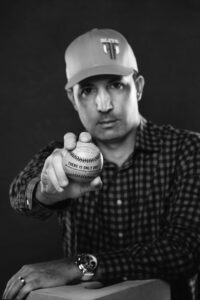 Studio 7 Fine Art Gallery will be featuring James Fiorentino, Nationally Acclaimed Sports artist, January 2- March 2, 2014.  An artist reception will be held on January 10, Friday, 6-9pm.  Many celebrities from all sports will be  invited to attend.  Some of the original watercolor paintings that will be available in the exhibit will be Eli Manning, Phil Simms, Drew Brees, each signed by the Football celebrity, Buzz Aldrin, walking on the moon, signed by Aldrin, The Field of Dreams, Baseball, signed by 14 baseball celebrities and Derek Jeter, signed by Jeter and many more.  Giclee' prints will also be available.
Born in Somerset, New Jersey in 1977, James's artwork was recognized at an early age. At the age of fifteen, James Fiorentino became the youngest artist ever to be featured in the National Baseball Hall of Fame and Museum for his likeness of Reggie Jackson. In 1998, James became the youngest artist to be inducted into the prestigious New York Society of Illustrators, along with such artists as Norman Rockwell and Andrew Wyeth. He has worked with many legends of the past and stars of today, including Ted Williams, Joe DiMaggio, Cal Ripken Jr., Derek Jeter, Mariano Rivera, and Muhammad Ali.
His photo-realism in watercolor has helped him become a nationally-known wildlife and portrait artist, painting people from everyday life to including President George Bush, Jim Carrey, Steve Forbes, Michael J. Fox, President Gorbachev, Steve Kalafer, Christopher Reeve and Desmond Tutu. Many of James' works currently grace the walls of museums, galleries, companies and private collections including the National Baseball Hall of Fame, at age 15, United State Sports Academy, Cycling Hall of Fame, Yogi Berra, Ted Williams and Roberto Clemente Museums and National Art Museum of Sport.
James' work can be seen nationally in books and magazines and on trading cards. In 2001, "The Fiorentino Collection" consisted of approximately 100 paintings for Upper Deck Trading Cards depicting legends in five major sports. James' work and story has been carried on all the major national television broadcasts, and in magazines and newspapers. He has had many solo show in museums and galleries throughout the country.
---
Baseball in Black & White: Extra Innings
James Fiorentino
Watercolor Paintings
November 17- December 31, 2021
Artist Receptions with LIVE PODCASTS
November 19 and December 10, Friday, 6-9pm
Meet Special guest Jay Goldberg of Bergino Baseball Clubhouse in NYC where the Baseball in Black & White show first debuted 5 years ago. Goldberg will host a live podcast during both receptions, and in addition to interviewing Fiorentino about his career and shows over the years at the Bergino Baseball Clubhouse, and the former players and VIP guests in attendance, Goldberg will discuss his special upcoming multi-media project, "The Memory of America: Remember Your First Baseball Game".
Enjoy Wine, Beer, Food and Art
---
---
Princeton Magazine article features James Fiorentino and Studio 7 Fine Art Gallery
---