Hsu Dan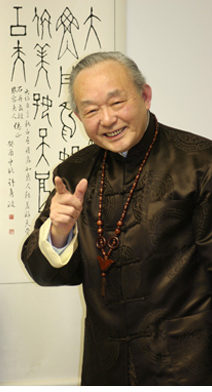 Dan Hsu (1931-2014) was born in 1931 in the city of Hangzhou, China. He started painting at the age of seven. As a child, no toys could capture his attention like the drawing of pictures. At thirteen, he began exhibiting his paintings. He is a graduate of China Institute of Fine Arts in Hangzhou, where he studied under the great masters Lin Feng-main and Pan Tain-shou. He then attended Tong-Ji University in Shanghai, studying architecture and garden design, and in 1953 received his Master's Degree in Garden Design from Harbin University. He went on to teach at Southeast University, Nanjing, China for 30 years. In 1985 Professor Hsu moved to the United States where he continued to teach until 2014. As a beloved teacher, he taught his students to embrace the beauty of nature, scrutinizing the colors of each tree and rock, to explore what is not seen, as well as what is evident, and the value of hard work. His legacy will live on in his paintings and the artists that he inspired.
Dan Hsu has been referred to as "China's Monet" and a "dual prodigy of painter and architect" by both American and Chinese media. The paintings of his homeland reflect on his strong ties to his heritage, as a 16th generation member of the influential and learned Hsu family of Hangzhou, the natural world around him, the influence of his teachers and studies of the past masters of Chinese art. Working in Chinese brushstroke with ink on rice paper and watercolor, he used his brush like a musical instrument, creating paintings with passion, adding traditional calligraphy and seals with ink, as his signature.
In 1981 Dan Hsu was honored to be chosen to create "Dawn of the Chinese Capitol". This mural which is displayed in the Great Hall of the People in Beijing took him two months to complete. He was a member of the Chinese Society of Fine Arts, the Architectural Society of China, the Chinese Society of Interior Design and the Chinese Garden Society. He was a member of the California Art Association and the Rutgers University Art Museum (as a special member). In 2010 he was asked to create two paintings for the World Expo Committee in Shanghai which were widely published in the press.
Mr. Hsu had over 30 one-man exhibitions in museums, galleries, and public and private venues including California Arts Institute, Drew University, Garden State Arts Center, Rutgers University; Newark, Zimmerli Art Museum, the Art Museum of Jiangsu, Nanjing, China, and joint exhibitions in Japan, Hong Kong and Europe and Studio 7 Fine Art Gallery. 
Drawing on his expertise in architecture, Mr. Hsu was inspired to create landscape paintings of the beauty in his new homeland. Dan Hsu once wrote: "In America, the space for my artistic growth is open and wide."
The area around Long Hill Township, near his home, was one of his favorite places to sketch. As with his many travels throughout the world, Mr. Hsu always carried his sketch book, which was the basis for his work. In 2011 and 2012, Mr. Hsu donated over 300 of his paintings and sketch books, which chronicle his travels, to the permanent collections of the West Lake Museum and Hangzhou Arts and Crafts Museum in his home town. A number of his paintings are permanently displayed in the Long Hill Township, New Jersey, Administration Building and Library where he had numerous exhibitions.
Dan Hsu has published many books on Chinese Gardens. He believed that gardens are the most valuable cultural heritage, flourishing and changing with time. He designed a classical garden in Hong Kong, and a six acre Suzhou private garden of the Ming Dynasty, for the Botanical Garden of Missouri. Mr. Hsu designed a Children's Museum in Houston, Texas and he was also involved in the Astor Chinese Garden Court, completed in 1981, at the Metropolitan Museum of Art.
He climbed the Haungshan Mountains four times, including all 32 peaks and explored the Yangtze River and waterfalls of China in search of new inspiration for his paintings.