Gerry Heydt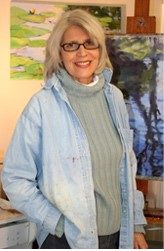 Gerry Heydt's resume includes twelve solo exhibitions, and participation in over fifty group exhibitions including Chubb Group, National Starch, Visual Arts Center of NJ, Arts Guild of Rahway, Johnson Gallery of Somerset Art, and American Artist's Professional League in New Jersey, and in New York City, The Norwegian Seamen's Church, Catherine Lorillard Wolfe Art Group at The National Arts Club, Audubon Artists at The Salmagundi Club, and Cork Gallery at Lincoln Center. Her affiliation with Sundance Gallery, Bridgehampton, NY, in the 1990's brought her exhibition exposure in Long Island venues including the Montauk Yacht Club, Bobby Vans, and the Hampton Classic Horse Show.
The Courier News and Home News Tribune featured articles on Heydt and her art work in 2002. She was the commencement speaker for the 2009 duCret School af Art graduation class, and was juror at the 2007 NJ Statewide Senior Exhibit, Flemington, NJ and for the Bernardsville Public Library Annual Juried Art Exhibit in 2008. The Daily Record of Morris County recently ran a front page story on her work with the Land Conservancy of New Jersey's "Preserve Now-Protect Forever" art exhibit, a project she initiated out of her appreciation for accessible open space where plein-aire artists can work.
Heydt is currently on the faculty of The Visual Art Center of New Jersey, Summit, NJ, teaching landscape and beginning through advanced oil painting. Over her career, she has taught classes and workshops in studio and outdoor landscape painting, floral, still life, and nocturnal painting, and drawing at The Visual Art Center of NJ and Somerset Art Association, Bedminster, NJ. She taught outdoor landscape painting workshops with the New Jersey Heritage Workshop Series annually in Cape May, NJ since 2002. In the 1980's she developed the art curriculum and taught grades K through 8 at the Linn Hill School, Westfield, NJ, a private school for gifted children.
Gerry has a BFA from Stephens College, Columbia, Mo., in fashion illustration, and an MFA from the Instituto Allende affiliated with the University of Guanajuato, Mexico, in drawing and printmaking. She continued studying at the Pratt Graphics Center in Manhattan, where she completed work on her master's thesis on the historical background of etching inks and current practices in grinding inks for contemporary printmakers. She began studying oil painting in 1987 with James McGinley at the Newark School of Fine and Industrial Arts and continued with Sam Adoquei at the New York Academy of Figurative Art, the National Academy of Design in New York, and privately at his Union Square studio. Gerry lives and works in Plainfield, NJ.