Cody Nicely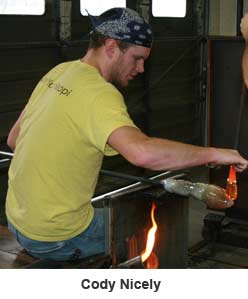 My interest in blowing glass began with a visit to Venice, Italy. The trip was a wonderful gift from my grandmother who wanted to give all her grandsons a trip they would remember and this one certainly proved pivotal in my life! My aunt went with me and arranged a tour of a glass blowing factory on the island of Murano. There I witnessed glass blowing for the first time and sculpted a glass horse with the guiding hand of a master glass blower. He put a pair of tweezers in my hand and used his hand on mine to create a horse in a matter minutes. I was 14 and I was fascinated by glass.
During my first year at Wittenberg University, my interest in blowing glass was rekindled when I discovered a glass blowing program at the Springfield Museum of Art. I began developing my skills by enrolling in all the glass blowing classes the museum offered. My grandmother and aunt gave me glass blowing lessons in Chicago for Christmas and birthdays. At Wittenberg, I did an independent study in glass blowing and eventually made glass blowing my concentration in studio art, with a minor in marine biology. For my senior art exhibit, I created 12 sea form glass sculptures, consisting of 25 pieces. I was honored to receive the Presidential Award for the most outstanding senior art exhibit. The award meant Wittenberg University purchased a piece of my glass art for their permanent collection. It was a very proud moment for me.
The form, movement and color of marine life have always fascinated me and continue to provide the inspiration for my glass art. Whether abstract or realistic, I start with the shape and motion of my subject and interpret its beauty into molten glass, adding color if the subject demands. Each piece is hand blown, hot sculpted, one-of-a-kind and is an interpretation of how nature acts and reacts to its environment.
My glass sculptures are featured in eight galleries nationwide and I also participate in shows such as the American Craft Council Show, The Buyers Market of American Craft, High Point Market and Americasmart. An abstract piece of mine was recently featured and sold in the National Liberty Museum Glass Now Live Auction in Philadelphia, PA.
It is exciting and challenging to hone my skills, while continually incorporating new and unique interpretations of sea forms. However, I am not limiting myself to just aquatic life. I am always adding other forms to my repertoire and hope to never stop evolving. Glass blowing is my passion.