Anne Stoeber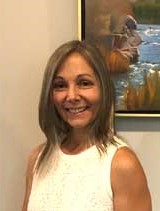 Anne Stoeber,

a life long resident of New Jersey, studied art at The Newark School of Fine and Industrial Art. Subsequently, she began work as a computer graphic artist.  After taking time off to raise a family Anne began studying with various local artists as well as taking classes at the Center for Contemporary Art.

 

A fascination for light and shadow, as well as a passion for complex realism, are the unifying threads of Anne's work. Her intense attention to detail, color, and form capture a wide variety of subjects: quiet spaces within vibrant cityscapes, shimmer of light across water in coastal byways, peaceful communication between life and landscape

Anne's work has been featured in juried art exhibits throughout New Jersey. She has won recognition at the Center for Contemporary Art Juried Show and the 2017 Best in Show at the Tewksbury Juried Art Exhibit. In 2018 Studio 7 Art Gallery in Bernardsville, NJ. featured her work in a one-person show. 2019 exhibits include Monmouth Museum 40th Annual Juried Exhibition and the Jersey City Arts Council Art Fair 14c. She has done many commissions, as well as work sold to private collections.

Anne  is a member of the Center for Contemporary Art and the American Academy of Equine Art. She is represented by Studio 7 Art Gallery in Bernardsville, N.J.